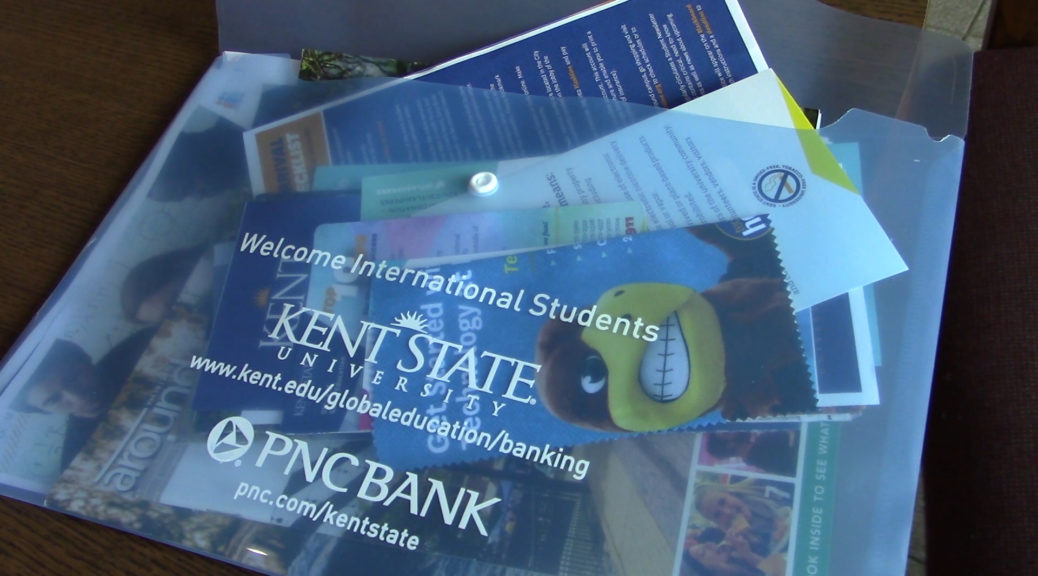 You Belong Here: The Experiences of an International Student on a College Campus
You Belong Here: The Experiences of an International Student on a College Campus
Some students travel hours away to attend college, some move away from home and begin learning in another State, but for others they come from entirely different countries to receive their higher education. A lot are leaving their home country for the first time and learning on the fly in America to get acclimated to the culture.
The normal struggle that students attending college is amplified for international students who have to figure out related things like housing, but things like transportation are amplified since some don't even have a license to drive even if they did have a car here.
Color Kang is the associate director of international admissions at Kent State and she explains some of the added challenges for international students coming to the school.
"You're coming to another country and trying to figure out your cell phone card, your housing, your insurance, it's very challenging especially when you're doing it in a different language and culture." Kang explains.
With struggles like these it is more difficult being an international student, especially if you have weak English as getting used to the jargon and slang terms can be an added challenge. Despite these many international students enjoy their time in the United States and some stay in the country after graduation.
Sarah Malcolm is the director of international partnerships at the school and says that they often have to explain simple things to students that are interested in coming here like where the school is located. She says former students are a big way that they continue to have good international enrollment.
Malcom says, "Students get word of mouth so if a student comes here and has a good experience they go home and tell their friends and their family. 60% of our students are here just based on word of mouth."
Kent State University currently had 1,662 international students enrolled in 2018.
The Office of Global Education on campus is a great tool for international students to come to if they have questions or need help with things like housing, their VISA or help learning about transportation. However the office was lacking a bit when it came to other struggles incoming students may have.
The Global Ambassadors Club was created to try and help with these other aspects. The club is now official recognized by the school as of 2019 and has worked to create different events and other services to provide international students.
Surya Suresh is the president of the organization and says it helps expand the touch the school has with their international student pool.
Suresh says in addition to the events the club puts on and the help they try to provide for students socially, they have worked to offer a new service.
"What we do now is we have these airport pickups so any international student who come during the spring and fall semester, they have the option of picking Kent State airport pickup where one of us or someone from the office goes to the airport and goes and picks up students so that they don't really have the trouble of getting from the airport to Kent State." Suresh says.
Many students say the services offered through the combined effort of clubs like the Global Ambassadors and the office of global education are great tools for them on campus. Some express how nice it is for people you haven't met before to be so helping.
When it comes to college athletics you look for talent anywhere you can find it and looking out of the country is no exception. At Kent State on the women's field hockey team 7 of the 25 team members are from a foreign country. The women's volleyball team may have a smaller number than that but they do have one player who traveled far to be a part of the team.
Melissa Kolurbasi is just 19 years old and from Turkey and a big part of playing sports is communication and despite being comfortable with English there are still some challenges she faced in her transition.
She says when she first came to the school and team there was initial struggle due to not knowing anyone.
She says that initial struggle passed quickly due to friendly nature of her teammates and the team bonding dynamic that is created when playing a sport. Despite this Kent State Volleyball's head coach Don Gromala says there was an adjustment period they had to overcome.
"We had to start to figure out when she really didn't know the answer, because sometimes she'd say yes, I understand. Just because she didn't want to slow things down with the team or the practice when she really didn't." Gromala recalls.
He says the school is always looking for talent wherever they can find it and Melissa comes from a country where volleyball is one of the most popular sports. He says its interesting to look at how other cultures are different when it comes to things like sports. He says Melissa had a Facebook fan page that they found during the process of recruitment that was created for her when she was only in high school.
Teammate Natalie Tagala says that despite the initial hurdles Kolurbasi has adjusted to life here well and the two have developed a bond off the court as well.
She believes when she first got here she was adjusting to so much that it was a lot for any person to be able to take in
"I think in the beginning she was saying she understood just because it was so much information. I think it all just comes down to understanding them off the court. And then it really helps build your relationship on the court." Tagala says.
Kolurbasi says that she has enjoyed playing here in the states and enjoys the country and is currently planning on staying in the country after her playing days at the school are over.
"I don't want to go back to Turkey actually, because I really like here. And like just America in general." Kolurbasi
International students may face some initial struggles when coming to the country but after getting past those and getting acclimated to the culture and making friends most speak positively about their time spent here and some even look forward to staying in US after graduation.