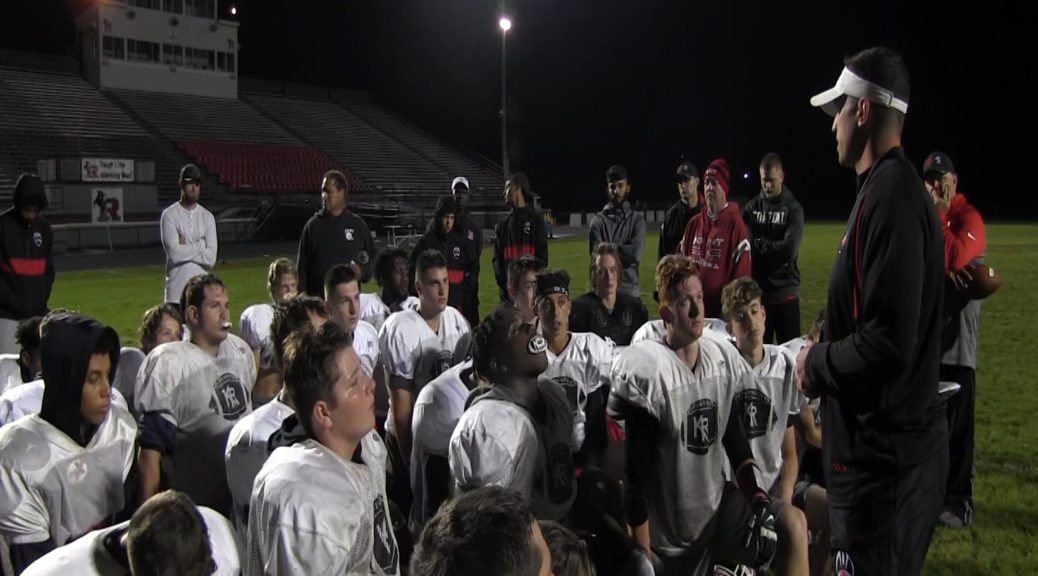 Football and Concussions
Football and Concussions
Cleveland-native Aaron Penn had been playing football since he was 7-years old. His football aspirations seemed to be falling into place after being one of the top high school prospects in Ohio and earning a spot on the Kent State football team as a preferred walk-on.
However, during a walkthrough in the 2013-2014 season, another player blindsided Penn, triggering serious concussion-like symptoms that would change his life from that point moving forward.
"I kind of just remember the initial pop. I didn't necessarily go down and stop. But, it was like a feeling I never felt before," Penn said.
Kent Roosevelt coach and former D-I football player Kevin Hockett explained that reciprocating the same amount of momentum as another player can result in far less injuries which Penn was fully aware of as well.
"Seeing this guy coming. Or, knew that he was going to hit me with that amount of force, not knowing that he was just going to come and engage me hand-to-hand, I don't think I would have sustained that blow that was pretty much it for me. That was my last play," Penn said.
Penn expressed how after experiencing the big hit, he was very sensitive to light, had a dizzy, nauseated feeling, and constantly would be forgetful and disoriented on a daily basis.
"I still sit in class or sit across from somebody and they'll say something and seconds later I'll completely forget what they said. So now I'm trying to retrace my steps like 'damn, what did this person just say?' Or, I'm looking at the person next to me trying to get their notes because I didn't hear a word the professor just said. And not even hear but I just didn't retain it," Penn said.
Though Penn still admitted to having concussion-like symptoms such as short-term memory loss, he has made immense improvement and stressed the importance of setting aside time to heal.
An intricate part of that recovery process is utilizing the team trainers who are responsible for evaluating concussed players like Penn. Kent Roosevelt athletic trainer Terry Slattery said the "baseline test" is a universally known method primarily used to test if an athlete has a concussion or not.
"A baseline test basically is, we're trying to test what is there 'normal,' what is their cognitive normal, what is their processing normal, what is their balance normal," Slattery said. "Then if we have an event of some kind or suspect that they could have some sort of head injury, we reassess, do the test again and compare the baseline to the assessment."
During these tests, trainers are exercising all cognitive functions of the brain to see what has been affected.
Penn went through a similar evaluation process where he had to do various cognitive exercises before he could be cleared to play which he said was easier said than done.
"I was astonished I couldn't answer these questions. And this went on for weeks and weeks. It kind of got scary because I was like 'am I going to ever really recover from this? Is it something that's going to be permanent?'" Penn said.
Unfortunately, Penn never returned to play another down after that hit. However, once players appear to be symptom-free they enter the "return-to-play" protocol, according to Slattery, which gradually eases players back into their original daily routines.
During the first day with the player showing no concussion symptoms, the player would only do a light workout like jogging. During the second day with the player showing no concussion symptoms, the player can increase the intensity of their workout, incorporating weightlifting and sprinting. During the third day with the player showing no concussion symptoms, the player can be a noncontact participant in practice. During the fourth day with a player showing no concussion symptoms, the player can participate in practice with contact. Slattery said "at its best" the return-to-play protocol can be a week-long progression; however, the timetable varies on a case-by-case basis.
Once players return onto the field, the coaches are responsible for making sure they give them the proper instruction to make sure injuries are less prevalent.
According to traumatic brain injury expert Dr. Phillip Rumrill, the number of brain injuries experienced by children between the ages of 6 and 17 had a 50% increase in America over the last 10 years.
Hockett said that, when dealing with concussions, taking the side of precaution is ideal for the sake of the student-athlete. "You don't want to damage a kid's mental capacity for their future. You don't want to cost them the quality of their lives at this early age."
"What's happening with football players (with the CTEs and the concussions), they're entering a degenerative progressive neurological condition that looks a lot like dementia," Dr. Rumrill said.
Hockett said the proper usage of equipment such as helmets and practicing the right way to tackle is very important.
"Make sure that the adjustments of the helmet is necessary so that there's proper air in the helmet, proper adjustment with the chin strap, the proper adjustment with the face mask and everything is taken care of prior to the contact beginning," Hockett said. "We have shadow contact and things like that where we go short distances not at full speed. We always teach them the proper techniques of tackling."
On-field success and training the youth to be the best athletes they can be is one thing, but Hockett said setting up the kids for life after football is far more important.
"The kids' future and the future of their health is always going to super-cede wins and losses or whether we can put this kid in the game or take him out," Hockett said.