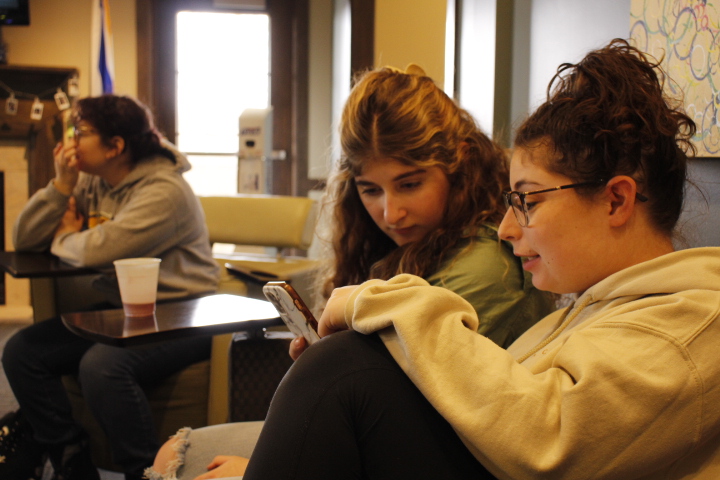 Unapologetically Jewish
Unapologetically Jewish
Helen Gaffney, 22, a proud Jewish woman and a deep feminist, finds a community that reenforces her activism and belief in her faith at Kent State.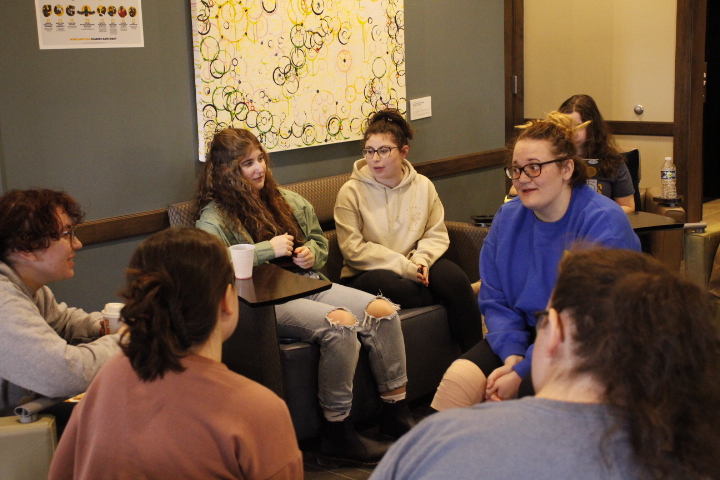 Most days Helen can be found on Summit Street at the Cohn Jewish Student Center, working late nights at the reception desk or relaxing in the lounge with two or three close friends.
Helen is a minority on campus, because she is Jewish and a woman. Approximately 1,500 students make up the Jewish community between Kent State, Akron University, and Hiram College.
"Sometimes it can feel like you're outcast, you don't really have someone to talk to, or share traditions or culture." Helen said.
Helen is proudly aware of her Jewish identity, "I feel like it's a privilege that I can be a proud Jew and spread that to other Jewish students." I think it's like the biggest thing about my identity."
An integral part of Helens identity comes from generational religious traditions.
"It's a Jewish belief that your ancestors are in you, I was named after my great grandmother." Helen said. "I can carry on the traditions of my ancestors that they were honestly killed for."
 In Judaism, when you name someone after a deceased ancestor or biblical figure, it is believed that person is reincarnated in you.
As well, Helen considers herself a deep feminist.
"I believe that women are just as capable as men. And I think we need to bring that up more. I feel like it's a Jewish responsibility to look out for like everyone, including women."

Helen Gaffney, senior education major, president of Achoti.
It's not very often that you find an exceptional prankster, but Helen has indeed earned this title. She was voted as class clown in high school.
Helen loves to make people laugh, she finds it to be a coping mechanism and a way to break down barriers and form new relationships.
"I had this like little sound machine, like this fart box machine. And I had a remote and before class I would get there early and like put it underneath someone's seat." Helen said. "I put like these sticky mustaches on the senior banners. I put one on my own senior banner, so it didn't look suspicious. "
Coming from a more secular life, Helen couldn't fully explore her Judaism. She attended a catholic high school where she was the only Jewish student. She dealt with antisemitism and ignorance at a face-to-face level.
"It was really hard, but for some reason, it made me stronger, which was weird."
It is at Hillel, where Helen was able to explore her identity and her faith.
Helen is now the president of a Jewish women's student group, Achoti, meaning my sister in Hebrew. Helen organizes weekly meetings, spearheading difficult informal conversations among young Jewish women.
"I definitely have a Jewish community here, but Achoti is special because it's great talking about role models, what you're doing here as a 20-something-year-old. It's just something special."
Aside from a proactive lifestyle in her micro community, Helen is a senior, majoring in middle childhood education with a focus in language arts and social studies.
She is currently student-teaching at a local middle school and has experience tutoring 6th grade students at Ravenna and student-teaching fourth grade students at Crestwood Elementary in Elyria, Ohio.
 "It's very different, but I like older kids. I don't like to babysit kindergarteners, honestly, sorry." Helen said.
Though most of her time is spent at Hillel, Helen still makes the trek to Kent State's tallest building for much-needed study time.
"The eighth floor of the library is my go-to spot…the eighth floor hasn't been touched since the 1970s, no one's up there and it's slightly haunted. I like it." Helen said.
Helen considers Kent State University to be a home away from home, but the community overall, lacks support for Jewish people.
Helen recalled a threatening situation when in 2022, a stark county man with Nazi affiliations entered a stow convenience store with a machete and hatchet, looking specifically for Jewish people.
"Sometimes, Jews aren't included in people's activism. And when there are hate crimes, nobody really talks about it. And it makes the Jewish community feel kind of isolated."

Helen Gaffney, senior education major, president of Achoti
Helen also described how her religious holidays sometimes conflict with professor's course schedules. She must maintain her religious customs, sometimes at her own expense.
Helen mentioned one professor who accommodated religious holidays and expressed inclusivity.
"I think that she's a role model for me. Like, that's what kind of teacher I want to be, inclusive for like everybody." Helen said.
After a long summer of standardized tests, Helen will be a licensed teacher. Her plan is to move to the Cleveland area where there is a much larger Jewish community. When her boyfriend returns from working in Chicago, their plan is to buy a home and adopt a golden doodle puppy.
Helen's advice to current and future students: "It's important, especially now, to unapologetically be yourself. Don't let people's biases or stereotypes hold your identity back."