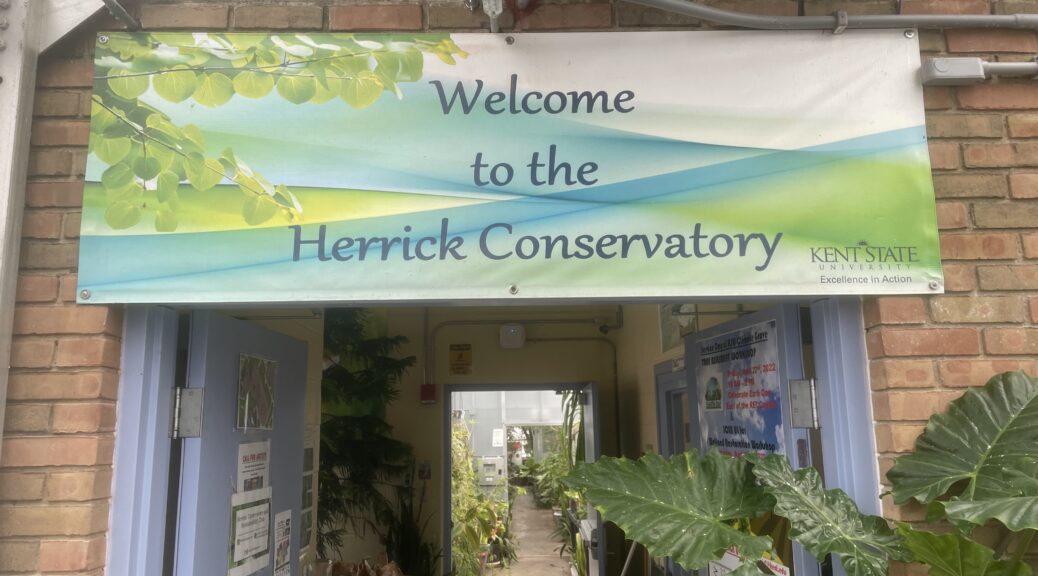 Who is Kent State? Greenhouse turned Conservation Club
Who is Kent State? Greenhouse turned Conservation Club
Kent, Ohio – Third semester senior Megan Homison is a botany major at Kent State who has been interested in plants and conservation since she was a kid. When she first came to campus as a freshman, she was focused on finding a safe comfortable place where she felt she belonged. Thanks to a successful tour she found a home in the greenhouse that was on campus. She immediately wanted to get involved in any way that she could. One of her main goals was that she wanted to replant recently harvested areas.
These are focused in areas where due to human impact they need to be restored. They need to be harvested from all the mining that and environmental issue going on around it. "Every time I am around nature and specifically plants it really makes me feel a sense of peace, Megan would say, I want to do my part on campus to bring more awareness to people about the impact plants play on this Earth." She actively started volunteering her time in the greenhouse. She would send out email chains every week to try and bring in people to volunteer.
She wanted to build a sense of community. She used other social media apps such as Instagram to post pictures of the greenhouse and show how naturally eye catching the greenhouse was. Due to her efforts, she was awarded with the title of president of the Herrick Conservatory and Sustainability club. Her first task as president would be to reel people in by throwing events. She decided she wanted to do earth focused events. Her first event was a tree planting experiment. She put it on Fall 2021 after students started returning to campus after COVID. Her motto was that everyone is welcome, no matter who you are or what major you are in.
A student who is a computer science major even decided to come out and be apart of the volunteer experience. While initially Megan was off to a good start with the club, she quickly noticed that getting people to commit to things became a challenge. "I would send out email chains of a list of 300 people and only 10 would show up. Megan would say, but those 10 would be pleasantly surprised by the experience they had and go and tell another 10. She decided to think more about expectations versus reality.
Another event she put on involved going downtown Kent to the river and doing evasive removal. It involved going to the riverbanks and chopping down the plants such as Japanese knot weed that were taking over and spreading everywhere leaving no room for other plants. While chopping down the plants would not kill them it would provide more space for plants alike to grow. That event was successful and made it to so that Megan decided that she wanted to focus her goals on doing more plant related events outside of the greenhouse.
This semester she is hoping to throw 3 or 4 events. She wants to create a tight knit group that is reliable week to week. While she knows the botany major is small, there are other plant lovers who want to be involved in clubs like hers. She hopes to take all her efforts and experience from Kent and be in the mountains doing conservation jobs all over the world.
"Plants are my niche. I wanted to make an impact helping students understand the environmental process better and plants themselves, Megan would say, we are trying to save the environment creating better use for our plants a day at a time" Earth Day is coming up and Megan hopes to work with other campuses to create something special that could have lasting impact and keep the club running long after she's gone.
If you want to be apart of making an environmental impact sign up for the Herrick Conservatory and Sustainability Club. Contact mhomison@kent .edu for more information.
"Saving the environment a day at a time"

Megan Honison 'Who is Kent state"
"Plants are niche"

Megan Honison "Who is Kent State"