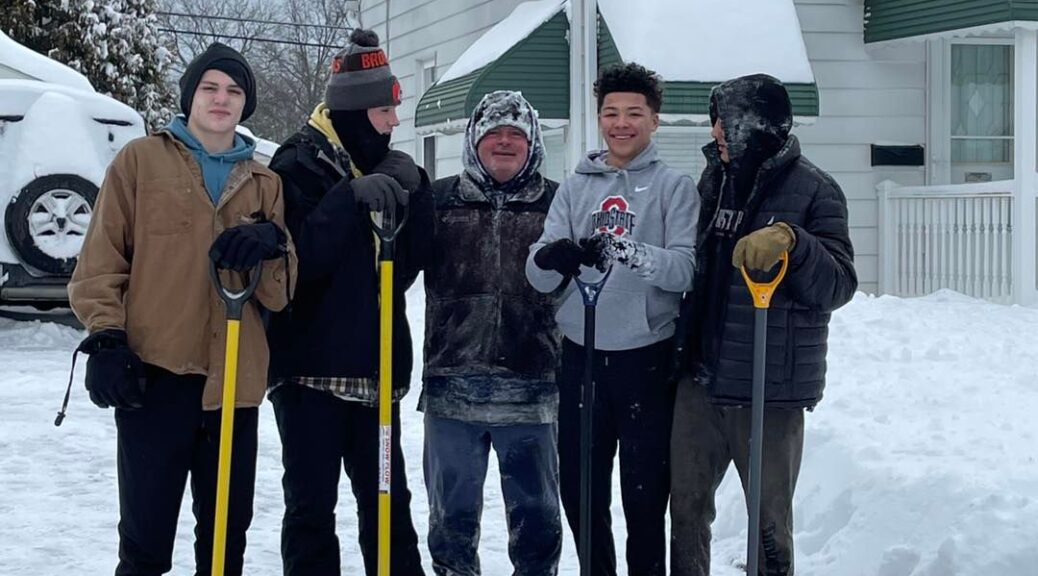 Stow Wrestlers Shovel for Community
Stow Wrestlers Shovel for Community
Coach Buckwalter has always excelled on the wrestling mat. He dominated for five years at Kent State. Though his impact went well beyond his athletics, his leadership, academics, and the positive role in his community led to him getting the Joe Begala and Merle Wagoner Award in one day.
When Stow-Munroe Falls needed a new high school wrestling coach, they found the perfect candidate. Tyler Buckwalter now is leading a team to be the best they can in wrestling, but also to be an impactful group for their community.
Over the last couple of snow storms, his team has been out shoveling the driveways of those who were not able to.
The day started for the team when a middle school coach was not able to get out of his own driveway. While shoveling his driveway an athlete saw a post on Stow's Facebook group page from a disabled person who needed help. The team sprung to action.
Buckwalter said that his team was wrestling with the snow mounds for around 12 hours during the first storm shoveling the driveways of anyone who needed help. They shoveled almost everyday between the two storms, then had another big day when the second one hit.
"We were out for a little while after the second storm, actually helping somebody try to get their car and stuff out of a ditch," Buckwalter said. They also spent plenty of hours trying to clear as many driveways as they could.
Buckwalter's team had some high praises for their coach. Senior Will Edmonson said "He's a great leader. He always encourages us to go out and do this kind of thing. None of us thought it would be a big deal or anything, but people seem really impressed with what we did, and that reflects back to him I think."
"That's the kind of thing that we try to teach the kids to be good wrestlers on the mat, but also good people," Buckwalter said. "Just try to use the talents they have, and the physical abilities, they have to go help other people."
The team enjoyed doing community work, but they also enjoyed hanging out with their friends. With COVID affecting the school district, students have had a harder time hanging with their teammates.
"I think they really crave that social interaction with each other," Buckwalter said. "I've kind of seen it just even when we have workouts, attendance is much higher because they just want to be together."
The players seemed to all agree with their coach's message about using the experience as an opportunity to see their teammates.
"It was great to be able to hang out with my teammates outside of practices," Edmonson said. "We have a great group of guys with some fun personalities so I was excited to get to hang out with them."
The community did not let these good deeds go unnoticed. Buckwalter said they have had plenty of support, being recognized at a girl's basketball game and by the mayor at a city council meeting for their work.
"We got a couple of nice thank you sent in," Buckwalter said, "and even one of the local businesses in the area sent in some cakes as a little thank you to the wrestlers."
The season is not over for the Stow Bulldogs, so for now their attention will turn back to their upcoming matches. They will face the Hudson Explorers Thursday, then have two more games until the postseason.
Buckwalter believes his coaching staff is helping make sure that the kids are great members of the community. He also hopes the impact he has on them carries with them for the rest of their lives.
Buckwalter did have one message about his team's experience and the lessons he has taught them. "Hopefully it becomes now contagious in the way that they live their lives, and they can continue to do these kinds of great things."