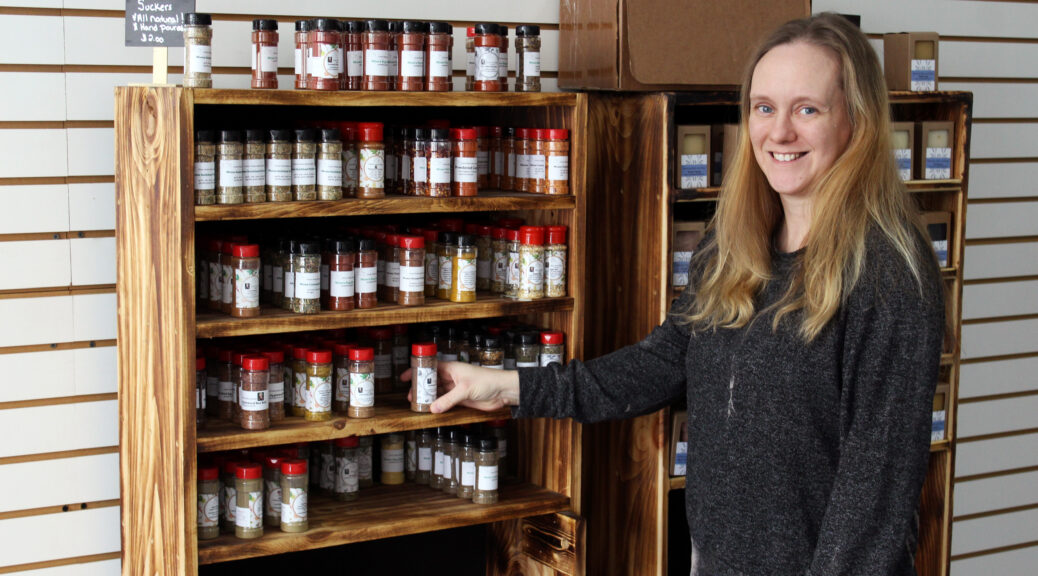 Parma mom opens small business, raises awareness for children with learning disabilities
Parma mom opens small business, raises awareness for children with learning disabilities
As a young girl growing up on a small farm in Southern Ohio, Danielle Wells watched her parents and grandparents grow their own food in their backyard. She dreamed of owning her own herb and vegetable garden one day.
Her dream eventually came true and now she is a small business owner.
"It stemmed from when I was a child," Danielle Wells, owner of Moms Garden said. "Really getting into the herbs, having my own garden since I was eight years old, and growing it from there."
Wells grew up in Stow, Ohio and once she got married she moved up north to Parma, OH. She has five children, Katie, Christian, Connor, Cam and Carter.
All of her children have sensory problems including attention deficit hyperactivity disorder or ADHD, she said.
ADHD is a chronic condition including attention difficulty, hyperactivity and impulsivity. It is estimated that nearly 9.4% of children in the U.S. have been diagnosed with this disorder, according to the Center for Disease Control and Prevention.
Shockingly enough, Wells also suffered from ADHD growing up and she understands the struggle of living with the disorder.
Christian, one of her younger sons, developed autism when he was born.
Wells was not able to work a full-time job because no one would babysit her son, she said.
"Christian, between the ages of two and six, was so hard to babysit," Wells said.
As time went on, Wells found it extremely difficult to find childcare for her kids.
"It's expensive," she said. "Especially when you have five children."
In her free time, she researched ways to reduce the effects associated with ADHD and autism. She wanted to do something she could earn money from and also support herself and her children. This eventually led her to open her own homemade soap business.
In 2008, she opened her first business known as Katie Bugs Bath and Body. It was named after her oldest daughter, Katie.
The idea for Wells's business came along when she realized ordinary soaps negatively impact people with conditions such as the ones her children have.
Red Dye 40 which is commonly used in soap making has proven to worsen behaviors and outbursts in children with ADHD, according to several studies.
"Red dye is like giving a kid speed," Wells said. "It's ten times worse than sugar."
While it's not proven that increased amounts of sugar are worse than artificial red dyes, health experts recommend reducing sugar intakes for better health and behavior.
Soon after making her first soaps, Wells traveled around to several craft shows and farmers markets including what's now known as the Haymaker Farmers Market in Kent.
"We would go there every summer with our soaps," she said. "We always had a big following there."
While the soap business generated some revenue, it was difficult to compete with other soap makers on the market, she said.
Wells was left finding other ways of keeping her business going after sales declined.
"I had to think of ways to think outside of the box to make it a little bit more creative," she said. "I wanted to start bringing the herbs to the shows and events.
Since she already had her own garden of herbs and vegetables, she decided to use what she grew in her backyard as an addition to her business.
"I was able to bring them [to the shows] fresh from home and also dried," she said. "People would actually seek us out at shows very quickly."
Aside from selling soaps and herbs, Wells started experimenting with making her own teas. She also added homemade spices to her product line.
The business evolved over time with the addition of homemade candies and pet foods, Wells said.
After her business grew larger, she decided to change the name to Moms Garden of 5. The new name allowed her to showcase each sector of her business and include her children in the business. Moms Garden consists of Cam's Jams, Katie Bug Bath and Body, Carter's Kickin' Spices, Connor's Candies, and Christian's Pet Products.
"All of the kids have their own division," Wells said.
Once they're all grown up, each child can take their own division and continue to run the business, she said.
She doesn't just run the business alone. Her step-children's mother, Carrie, also helps assist with Moms Garden.
"It's a pleasure to be able to work alongside Danielle and help her run the business," Carrie said. "I am glad this works out for the both of us and we can co-parent and also show our kids we can work together."
Carrie also said she enjoys going to farmer's markets and shows with Danielle.
"Everyone kept asking me about herbs and plants," Wells said. "I kept going back to it because that was always the peaceful times. Gardens are just so peaceful."
Just like her soaps help those with ADHD, her herbal teas have health benefits too.
"Every one of these is medicinal," she said pointing to the teas on the wall.
"Lemon verbena is for anxiety and depression," she said. "Ginger helps with stomach and also… helps boost your immunity."
Many of her teas, including chamomile and garlic, help those who suffer from autism and ADHD. Chamomile is often associated with easing anxiety and promoting sleep.
While the pandemic left many businesses struggling to stay open, for Moms Garden it was the exact opposite.
The business actually saw increased sales throughout the COVID-19 pandemic, she said.
"When everything got shut down the amount of local people and American people across the states, they were supportive like you wouldn't believe," Wells said. "They were seeking us out to buy from us."
Moms Garden has attracted customers nationwide including people from Oregon and California.
With the help and support of customers, Wells is finally able to follow her dreams of opening her own store.
Moms Garden will be located at 5405 Pearl Road in Parma, Ohio. The store is expected to open to the public by the end of March.
Wells plans to include a sensory-friendly area in her new store so parents of children with sensory issues can both feel welcome.
In the meantime, customers can browse through an assortment of offerings on the Moms Garden website.