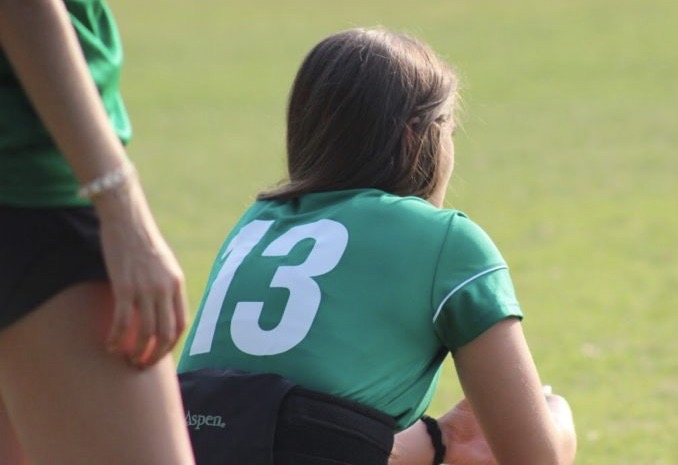 Athletes are Skipping Games to Extended Careers
Athletes are Skipping Games to Extended Careers
Jaelen Crider was a heavily recruited football prospect coming out of high school. He was a four star recruit with offers from Michigan State, Iowa and LSU.
During Crider's freshman season, things took a turn for the worst. Before the ninth game of the season Crider has told his training staff his ankle felt off. He got very sore fast and he could only describe it as ankle fatigue.
He ended up picking Toledo to play college football. He did not want to go far from his dad, who had been with him every step of the way.
Crider dreamed big of one day going to the NFL, though he knew he had a long way to go.
During the third quarter the worst happened, Crider's achilles tore. He had to be taken off the field and was going to be in physical therapy for a while. After a few setbacks, Crider has still been unable to take the field.
"I just have to wonder what if I sat that game out you know. What if I rested for one game and healed? I guess I will always remember it as a what-if story," Crider said.
Athletes are sacrificing playing in every game in order to have a longer professional career.
In the 2021-2022 NBA season, the average all-star played 65 out of 82 games. None of those all stars played in all 82 games, according to Pro Basketball Reference.
In the 1999-2000 NBA season, the average all-star played 78 out of 82 games. Nine all-stars also played in every game that season, according to Pro Basketball Reference.
This new mindset between players is known as load management and is meant to preserve their bodies for long term success. This mindset is shown heavily in star NBA player Kawhi Leonard.
Leonard had a deal with his former team, the San Antonio Spurs, that he would never play both games of a back to back. While playing for the LA Clippers, however, Leonard decided to play as much as he could. This led to a late season injury that ended his season.
Leonard elected to sit out all of this year in order to heal his injury. This is the second time in his career he has missed an entire season to heal.
"When you train your body that it is going to get breaks it can be much harder to break a habit like that," said Kelly Lindenberg, an athletic health care professor at Slippery Rock University. "He tried to go from a system where he got to rest when he wanted to having to push through injuries. His body wasn't prepared and he felt the consequences."
Leonard may have had a hard time adjusting in the short term, but his method is much better for having a long career.
"Giving his body a lot of rest like that helps make sure injuries don't pile up. If your ankle is hurt and you keep putting pressure on it, you're very likely to do some serious damage to it," Lindenberg said. "In a sport like basketball where you play 82 games in a short window, it is very important to take breaks when you need it, there is no need to play the tough guy role."
Players want to have a long career in order to make plenty of money and play the sport they love, but at what cost does sitting out games hurt a team in the present?
"When we don't have our best players, losses are inevitable," said Gary Waters, the former head coach of the Cleveland St. basketball team. "I know those guys who want to make it to the next league want long careers, but you got a job to do now."
Waters helped player Bryn Forbes reach the NBA. Forbes has played in all 82 games twice in his career, and more than 75 two more times.
"Forbes knows he needs to keep playing," Waters said. "He's there to win, guys are here to win. If you're not playing, you aren't winning."
Waters coached Cleveland St. for 11 years. He finished with an overall winning record of 194-172. Waters took pride in his players being available and with a desire to win.
Basketball is not the only sport where athletes are choosing to miss out on games, football players are doing it as well.
College athletes have been sitting out of bowl games while NFL players have been quicker to skip an extra game to heal an injury.
"Football is going to treat your body much differently than basketball," Kelly Lindenberg said. "With football you don't need to worry as much about little injuries piling up, the concern is more on that one big hit or slip that causes a much larger injury."
"Your body is moving at such a faster speed that one little mistake can lead to a long lasting injury for a player," said Lindenberg
Micheal Miranda is a senior offensive lineman for Penn State who has dreams of going to the NFL.
Miranda chose to skip the Outback Bowl against the Arizona Razorbacks.
"Those bowl games are great for the schools and for some of the guys to show off what they got, don't get me wrong," Miranda said. "When you work all season long though and have shown what you got already, these games don't feel like they matter a whole lot."
Penn State lost to Arizona 24-10.
"Losing any game hurts," Miranda said. "I did what was best for me though. I don't want to risk my body for a game that doesn't have much meaning. I helped get us there, but I was little to no upside for playing in it. I would rather save my body for bigger and better things."
Miranda suffered an injury to his ankle his freshman year. He had to be medically redshirted. Miranda was injured during a late spring practice game, the injury kept him sidelined for all of the real season.
"Getting injured in a game, that didn't mean anything, hurt. I felt like I wasted my time and I don't want to go through that again. So I have no problem skipping these games that feel meaningless, in hopes I can play longer," said Miranda.
Missing a game may be able to keep a player around for longer, but it can hurt a team financially in the moment.
In LA Laker games this season when Lebron James played or it was unknown if he was playing their attendance averaged out to be 18,997 people. In games where Lebron was known to be ruled out before the game started, attendance was down to 18,414 according to Pro Basketball Reference.
"It might not be the biggest impact but it can certainly be one a team feels. Sports are a business at the end of the day. Missing work at a business is not acceptable and sports can treat it the same," said Ben Dunlap, a sports management professor at Cleveland State. "The level of play the athletes produce is the product and when someone is missing, you're selling a worse product."
The trend continues to show us that athletes are increasingly willing to miss games in order to have a longer career.
"I wish sitting out was more accepted. Sometimes you can't just push through it and it can mess up your whole career if you do," Crider said. "Take that break when you need it, you know what's best for you."