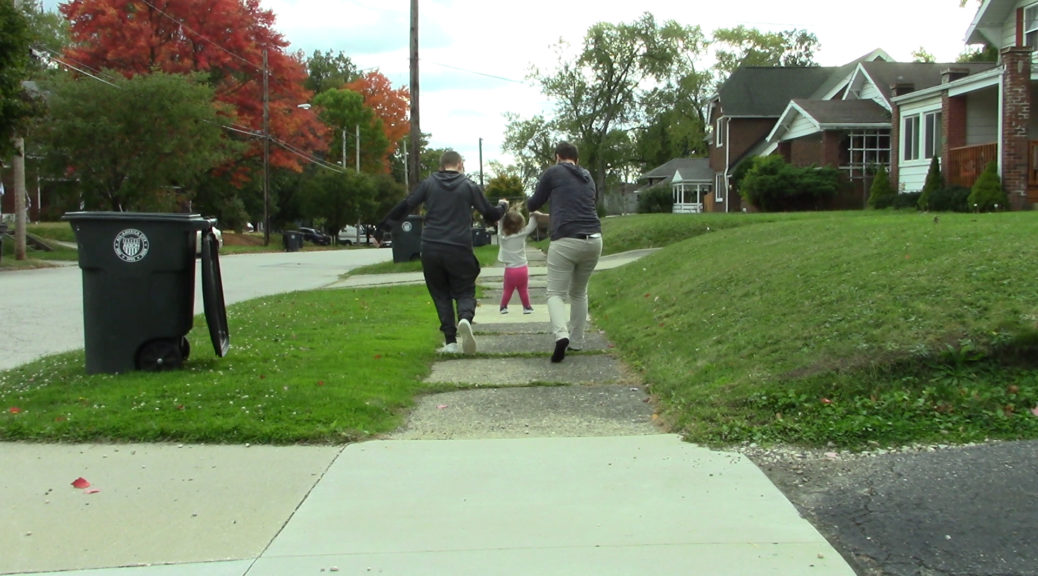 Kasey and Brandy Find Happiness
Kasey and Brandy Find Happiness
One of the greatest joys in life people talk about is having kids and becoming parents. For same sex couples however the process becomes a little more complicated, but when they do have that baby all that stress turns into joy.
"She's the best thing that's ever happened to me I knew obviously being a parent would be amazing but I had no idea it would be this way." Wingard says.
Kasey Wingard and Brandy Morris (Pictured Right) were set up and met on a hiking date. During the hike Wingard slipped and fell and fell right into Brandy's arms. The couple say they always joke now that Kasey fell, literally, for Brandy on the first date. The couple got married in 2017 in Virginia Beach a few years later.
Wingard always wanted to have a family and be a mother but Morris was a little more skeptical of the idea in the beginning.
Morris says, "Kasey always wanted a kid like she just feels like she was always meant to be a mother."
Morris says she suffers from attachment issues and was afraid to add another person into the mix in addition to Wingard. After some time Morris says she was ready to take that step and the two began the process of trying to have a baby.
Although Kasey and Brandy wanted a baby the process would not come so smoothly for the couple. They originally tried to have a mutual friend donate to them and they would try to conceive at home.
"We did try with a mutual friend of ours, I did get pregnant, I unfortunately lost the baby at like 11 weeks so that was really devastating Like that like even though I lost the baby so early on I can't express how much that took out of us, it was very very very very very very discouraging and very heartbreaking." Wingard recalls.
The at home process can lead to complications as there is a lot of guess work and tracking that needs to occur and the couple had to try for some time to get pregnant and when the miscarriage occurred they were left heartbroken.
Wingard was the one who was carrying the child and the couple waited for her body and their hearts to heal before attempting the process again. Before the first pregnancy they had considered having it done professionally but through research they thought it would be too expensive.
It was Wingard's mother who contacted her cousin to try and get information on where and how they got their insemination done. The couple explained that it really wasn't too expensive. They found out it would only cost about 2 thousand dollars so they decided to visit Ohio Reproductive Medicine in Columbus and begin the process again, this time professionally.
They were excited but also a bit worried due to the unfortunate result during the first pregnancy.
"My entire pregnancy I was so stressed out about losing her because I obviously lost the first baby, that I feel like I was robbed of that joy during my pregnancy." Wingard explains.
All that worry faded away when Eva'lena was born however.
"The moment they put her on my chest there's nothing that compares to that, it's like the craziest feeling in the world because they're there all along but they're not in your arms, like you know that they're there but it's different when you're holding them, it's amazing and then watching my wife being a mom, nothing compares." Wingard says.
Morris adds, "You cannot help but to be happy like in your bones and in your soul when she laughs and giggles."
"She literally makes everything better like there's no way you can not look at your child and not be happy, they're literally liquid happiness." Wingard goes on to say.
Eva'lena or Lena for short is now a little over a year and a half old and the couple is starting the process again to have another baby, but this time they will switch roles and Morris will be carrying the child.
Morris who says she has some health concerned to consider first but is trying to let all that go and focus on upcoming journey, "I'm absolutely terrified but I'm excited."
Wingard is looking forward to her wife getting the chance to experience the process of carrying a baby and both are looking forward to adding another member to the family.