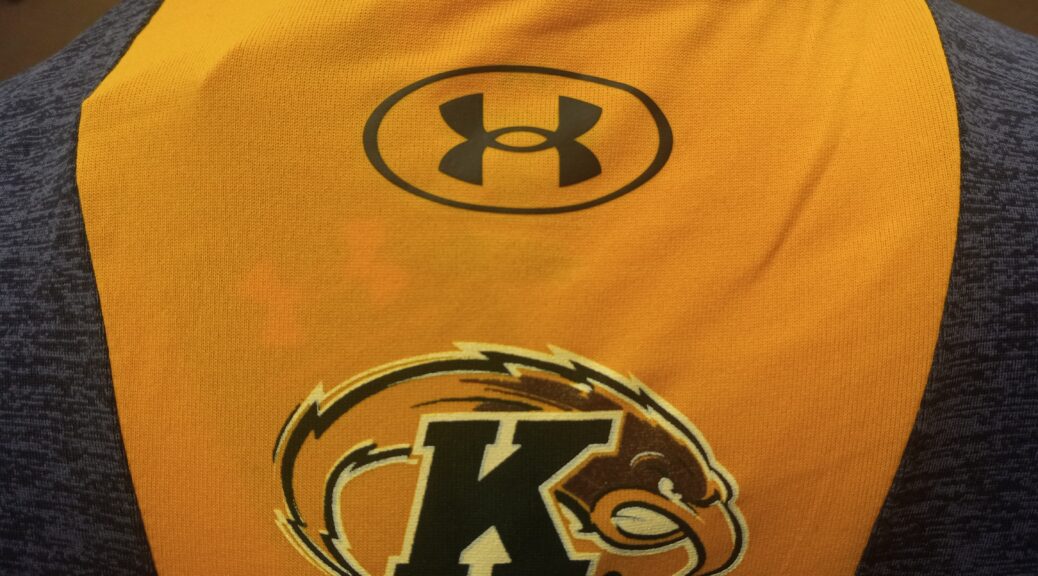 Brands In College Sports
Brands In College Sports
How does $252 million sound? This is the contract Ohio State signed for with the brand Nike through 2033, making the Buckeyes the biggest sponsorship deal in all of college athletics according to Samford.edu. Brands like Nike, Adidas, Under Armour, New Balance and Jordan have been the types of brands where they are well known for people to look stylish or for support purposes when physically active.
Big names and schools in sports have contracts with these brands in order to grow the brand and gain more popularity over other brands to the point where you see a university or certain athlete and you know right away who they are signed with.
A sport that is widely popular in college athletics is college football. An article produced by Biggest Brands in College Football has Division I NCAA football bringing in more money than any other NCAA sponsored sport and it is not particularly close.
Between July 1, 2016, and June 30, 2017, the SEC conference alone generated almost $967 million in revenue and during the 2017-18 college athletics season, $1.24 billion was spent on sponsorship with football leading the way.
The brands aren't just from sports brands like Nike, but these numbers are including sponsors from Gatorade, Allstate, PlayStation and Capital One.
In 2022 has Nike, Adidas and Under Armour are the top three brands for biggest brands sponsoring college football and of the 130 FBS (football bowl subdivision of NCAA division I) teams, Nike has 79 of those sponsors which puts the brand at a 61.7% stake. The next closest competitor in sponsoring teams for college football is Adidas (23.4%) and Under Armour (11.7%) according to College Sports Madness.
College Sports Madness also says some of the biggest deals with Adidas are the University of Nebraska sitting at $7.52 million annually from 2017 through 2029 and the University of Washington with $7.57 million annually from 2019 through 2029.
The University of Louisville is at $10.66 million annually between 2018-2028 and Under Armour has provided $361 million in scholarships in 2020 while collecting $5.86 million annually from 2016-2025.
Out of the top power five schools (ACC, Big Ten, Big 12, Pac-12, SEC) Boston College is the only school that stands alone with a sponsor by New Balance.
"You'll be able to find generic Kent State University gear in bookstores,"

Kent State Assistant Athletic Director Dan Griffin
When it comes to the apparel for college football people can find that in local stores and online to support their favorite teams. Nike is still at the top of its competitors with having 39 out of the 64 power five schools being partnered with the brand.
Once the school signs a deal with the brand they want, it is obvious that the college will use the products from that brand in the athletic program. Dan Griffin is the Assistant Athletic Director who oversees the athletics communication office at Kent State. He breaks down how Kent State gets the products from the Under Armour brand.
"We get a catalogue where we get a discount, and every team will go through it. There is a fall catalogue, a spring catalogue, and a winter catalogue and players will go through it and pick out the gear they want," he said. "The coaches or director of office or the equipment people will take care of that order."
According to Breaking Down College Football's Apparel Brand Partners, the ACC and SEC lead all other schools in the power five with both having nine, being partnered with Nike. Social Media plays a part in the apparel of college sports since teams use their social media presence to get looks on their facilities and clothes. At the end of the 2017-18 season, Nike was the provider for jerseys and sponsors of the 52.8% of FBS teams and getting a ton of exposure simply from their logo displays on the field.
"The brand never affected me whether I wanted to come to Kent State,"

Student athlete, Heidi Marshall
The way teams can increase the value of Nike's sponsorship is by creating high quality engaging social content about the brand. Teams will be more appealing to apparel brands if they post about team jerseys and equipment featuring brand logos.
With the following of more apparel brands so do the following of more fans. With whatever school signs with a certain brand, people will follow and buy merchandise in stores to support that school as the popularity grows.
That's what the power of social media can do for a team in college football. Social media can make a team have a good sense of style which can create a trend for fans to hop onto.
An example of a team with popularity would be the Ohio State Buckeyes having 6.3 million fans and the Alabama Crimson Tide is second with 4.1 million fans.
"The stuff is comfortable and looks sharp and gives us a clean look,"

Kent State Assistant Athletic Director, Dan Griffin
There's 1 college football team more popular than the Crimson Tide says that Alabama had more than 700,000 Gen Z fans in 2021 which is around 6% despite being the second most popular team in America.
When asked if the goal was to sign with a brand to represent more than just the athletic program and to get popularity, Griffin says that you can argue both sides.
"Yes and no, it kind of depends, you'll be able to find generic Kent State University gear in bookstores and things like that," Griffin said. "Barnes and Noble had a contract with our bookstore but they will have a third-party affiliate like Champs or any other brand that will handle licensed apparel."
According to Breaking Down College Football's Apparel Brand Partners, Adidas has only 11 schools that are sponsored in college football out of the 64 power five schools. Out of 130 FBS schools, Adidas is second in sponsoring college football teams at 28.5% and the ACC and SEC have three schools in their conference sponsored by Adidas.
Also, Under Armour is third in sponsoring college football teams sitting at 13.1% which is only 17 schools. Of those 17 schools Kent State is one of the teams sponsored by Under Armour. Jordan is at the bottom in sponsoring college football teams. Each conference has one team sponsored by Jordan; the Pac-12 has two teams.
"We get a catalogue where we get a discount and every team will go through it,"

Kent State Assistant Athletic Director Dan Griffin
Business Insider listed one of those schools being Arizona State where they are bringing in $4,225,000 for their annual contract value in which it doubled when the team made the switch from Nike to Adidas.
"UCLA just signed a mega deal with Under Armour and they had been with Adidas for the longest time," Griffin said. "How it works in that case Under Armour would push all their chips in and say which school's contracts are coming to an end and which schools do we really, really want to make a run for."
Heidi Marshall, a student athlete for the Kent State women's soccer team, is personally not a fan of the brand Under Armour.
"It's nothing against Under Armour but growing up I have always liked Nike and used products from the Nike brand," she said. "However, the brand never affected me whether I wanted to come to Kent State."
The Under Armour brand has been treating Kent State athletes well and remains having a good reputation with quality work and it continues to look like that for the future.
"I have been here since 2019 and my relationship with the brand has been pretty solid, I have no complaints," Griffin said. "The stuff is comfortable and looks sharp and gives us a clean look. They have been awesome as far as our designs and it's really cool that they were able to create a partnership with our fashion school and let us do a design that's custom to us."