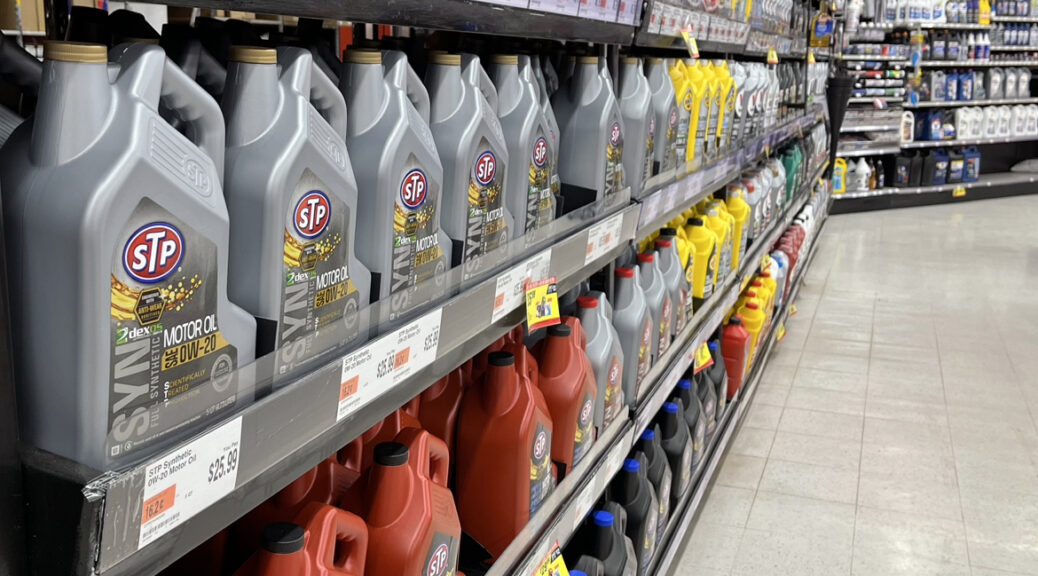 Auto Waste Recycling Accessibility – Is It a Problem?
Auto Waste Recycling Accessibility – Is It a Problem?
The automobile is considered one of the most effectively recovered and recycled consumer products, but for independent mechanics, the disposal process for fluids like motor oil and brake fluid can be surprisingly difficult.
Michael Dickson is the mechanic behind the viral car-repair-themed TikTok page, @michaelndickson. In a TikTok with almost 400,000 views, Dickson voiced his frustration over the roadblocks he faced when trying to safely dispose of his used and hazardous automotive products.
Dickson's TikToks typically involve him intentionally breaking something on a car and then repairing what he broke. In a three-part series with a combined 3.7 million views, Dickson replaced his brake fluid with Taco Bell's Mountain Dew Baja Blast. In this process of intentionally breaking and fixing things, Dickson ended up with more waste than a normal at-home mechanic.
"My local O'Reilly's basically told me, 'no, we only take oil,' " Dickson said, "and it got me thinking, okay, how do I get rid of this?"
Dickson said that the Licking County recycling guide helped provide a list of businesses that would accept waste, but the list, written in 2018, often had out-of-date information that didn't show if the business charged for the disposal or what products the business currently accepted. Dickson eventually found a facility in Franklin County, almost an hour drive from his home, that would take the hazardous waste for free. 
Dickson worries that some people might find the process too burdensome, and will end up improperly dumping the fluids, which can damage the land and possibly contaminate drinking water. 
But the difficulties aren't just in Licking County, some mechanics in Kent have encountered issues while trying to get rid of automotive waste too. 
Before starting at North Coast Auto Mall, Smathers worked at O'Reilly Auto Parts where he said they were able to take motor oil, engine coolant and gear oil, but wouldn't take automatic gear oil. Despite serving largely the same purpose, gear oil, a regular oil, and automatic transmission fluid, or ATF, a hydraulic fluid, have different recycling processes.
Dickson said that he'd like to see companies put more information on the bottles, with information or guides on how to properly dispose of the used oil. Most containers have little information about disposal, often using boilerplate information telling you to dispose responsibly at a qualified recycling facility.
Companies, like the O'Reilly Auto Parts that Smathers worked at, use third-party private companies, like Safety-Kleen, to pick up automotive waste that customers drop off to be recycled. Safety-Kleen sometimes buys the waste off of businesses and transforms used motor oil and other hazardous and non-hazardous waste into usable and profitable motor oils and lubricants.
But not all mechanics think the problem is as bad as others make it out to be. Tyler Napolitano, a hobby mechanic from Mahoning, OH and detailer at Ganly Mercedes Benz of Akron, says that he has never had a problem while getting rid of used oil.
"Maybe he was trying to talk it up to be something bigger than it was," Napolitano said, referring to Dickson's TikTok.
"I use Mahoning County facilities where I do most of my service, but I mean, they seem to be pretty good," Napolitano said.
Napolitano said that while he doesn't use the facilities in Kent very often, they have been accessible and up to par with those in his hometown.
The Portage County Recycling website hosts a list of different categories of automotive products and over fifteen corresponding drop-off locations. While the list is incomplete, it's a good starting point for people who don't know what to do with auto waste. One of the locations not listed on the list is Flynn's Tire & Auto Service at 1897 OH-59 in Kent. A mechanic at Flynn's Tire & Auto Service said that they would be able to dispose of any fluids as long as they are in a labeled bottle.
Improperly dumping motor oil and other automotive products in the state of Ohio can carry up to $1,000 in fines and six months jail time. For more information on disposal locations, visit your county's website and call your local mechanic or auto parts store.