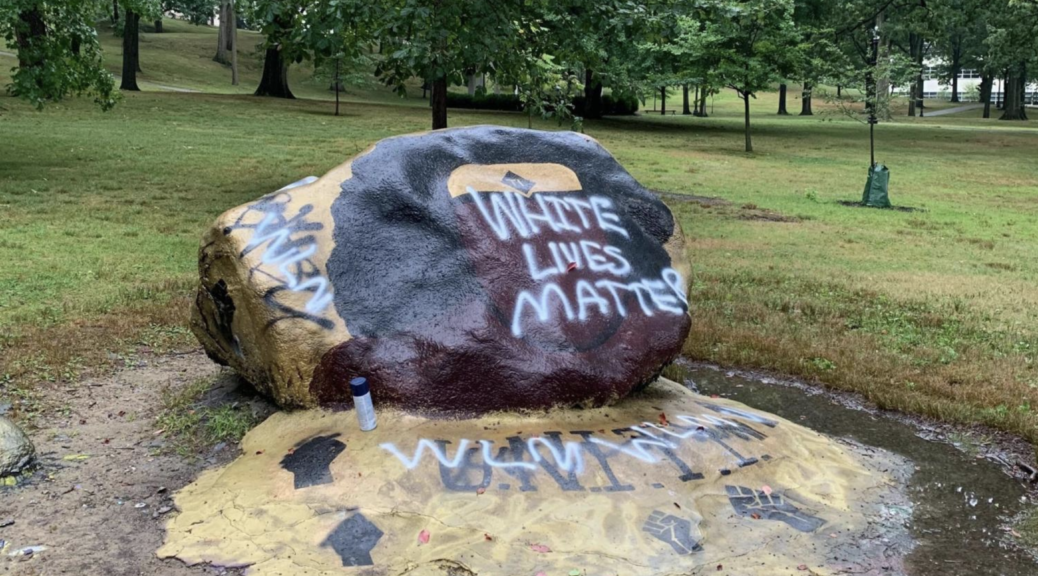 Are Hate Crimes in Ohio a Non-issue?
Are Hate Crimes in Ohio a Non-issue?
There have been many incidents of hate crimes most of them to be racially motivated, for example, you may remember the 2015 incident involving, the mass shooting of Black members of Emanuel African Methodist Episcopal Church in Charleston, South Carolina. An individual Dylann Roof had taken it upon himself to commit a hate crime by shooting and killing 9 people.NBC News reported that Roof had tried to appeal his death sentence recently.
Another example of a hate crime was in March 2021, when a man went into Atlanta ara spas and killed 8 people 6 of whom were of Asian descent. NPR recently reported earlier this year that the community prepared for the one-year anniversary of that horrific event.
A "hate crime" in Ohio is defined as, an offense that happens when a person engages in specific conduct against a group of people or individual person due to biased feelings. The definition of a "hate crime" varies depending on the state. The Southern Poverty Law Center (SPLC)keeps track of hate groups throughout the United States. It is apparent that there are around 20 groups located in Ohio as of 2021
Summit County Sheriff's Office and Portage County Sheriff's Office and many other police departments across Ohio, do not keep records of any hate crime reports.
Lieutenant Mike Lewis of the Kent Police Department stated, " I am pleased to say there have been no reports of any hate crimes in Kent, so hopefully this is a non-story". Lt. Lewis also stated that the department does not keep such records of hate crimes.
There are many cities and regions throughout the United States, that operate and have a hate crime task force with members from various law enforcement agencies and community representatives. Task forces help coordinate hate crime law enforcement personnel, assist victims, and strengthen law enforcement-community partnerships. This is why lawmakers in Ohio are pushing for change and making it a priority to do something about it.
House Bill 341 was introduced in Ohio in June 2021, with primary sponsors State Representatives Adam C. Miller and Casey Weinstein. House Bill 341 will create the Bureau of Hate Crimes within the Office of the Attorney General and authorize the Attorney General to prosecute hate crimes.
"Rep. Miller and I saw some data, I think that had been reported about increases in hate crimes. But regardless of all that, I think this should always be a focus. And then there's one other thing that we were concerned about the fact that many are not reported. Many hate crimes are not reported. And, you know, that spurred us to say, well, this, this should be a focus area, we should put resources behind this both for, prevention, to have a deterrent there, and then also in hopes of putting more resources behind it to get more hate crimes recorded and prosecuted." state State Rep. Casey Weinstein.
" We're not asking Ohio to be a leader on this issue, where I mean, there are several other states that have these offices, we, you know, Ohio needs to recognize it has a problem. We need to put every effort that we possibly can into preventing, tracking, and prosecuting hate crimes. That's the bottom line."
Public Affairs Officer of FBI Cleveland, Susan Licate stated that the FBI receives the information about the data of the 'hate crimes' through voluntary agencies coming from the Uniform Crime Reporting Program (UCR). "We receive information from local law enforcement about a potential hate crime and may offer investigative support or the public may reach out to us to report a hate crime in which we investigate."
Licate, continued on to say that the UCR data are sometimes used to compile rankings of individual jurisdictions and institutions of higher learning. "These incomplete analyses have often created misleading perceptions which adversely affect geographic entities and their residents. For this reason, the FBI has a longstanding policy against ranking participating law enforcement agencies on the basis of crime data alone." Despite the repeated warnings to others who go against these practices. Data users can sometimes misinterpret and continue to challenge and misunderstand this position.
The UCR Program generates reliable statistics for use in law enforcement. It also provides information for students of criminal justice, researchers, the media, and the public. The program has been providing crime statistics since 1930.
The information collected is the types of hate crimes reported to the UCR Program's Hate Crime Statistics Collection. The data information is broken down into specific categories that include:
Bias Motivation: Incidents that may include one or more types of offenses. Up to five bias motivation types can be reported per offense. The FBI collects information about single-bias incidents and multi-bias incidents.
Victims: The types of victims collected for hate crime incidents include individuals (adults and juveniles), businesses like the incident that happened in Atlanta, Georgia at the spas in 2021, and institutions and society. Law enforcement can also indicate the number of individual victims, as well as the number of adult victims, and the number of victims under the age of 18.
Offenders: The collection includes the number of offenders (adults and juveniles), and when possible, the race and ethnicity of the offender or offenders. In the data collection, the term "known offender" does not imply the suspect's identity is known, but rather some aspect of the offender is known, such as the offender's age or gender.
Location Type: One of 46 location types can be designated as the location, such as a house of worship like the Church in South Carolina, previously mentioned above; sidewalk, home, school, or unknown.
Jurisdiction: The jurisdiction includes data about hate crimes by judicial district (federal), state, and agency.
The data found on the FBI website gets update for the previous year annually and the next update is expected to take place sometime in December to have the data analysis of 2021. There is a whole list and details of what the FBI does to contribute in hate crime prevention for example:
Investigative Activities: The FBI is the leading investigative agency for criminal violations of federal civil rights statutes in the United States. They are partnered with numerous law enforcement partners throughout the country.
Law Enforcement Support: The FBI works closely with state/local/tribal authorities on investigations, even when federal charges are not brought. ( This applies to the recent incent involving a public assault on a woman in Akron, Ohio earlier this year).
Prosecutive Decision: FBI forwards results of completed investigations to local U.S. Attorneys Offices and the Civil Rights Division at the Department of Justice. They then decide whether a federal prosecution is warranted.
Public Outreach: A critical component of the FBI's civil rights program, involving local and nation organizations to help identify violations of federal law.
Training: Conducting seminars, workshops and, training sessions every year for local Law Enforcement.
What can be done to Prevent Hate Crimes?
According to The United States Department of Justice, Some steps that can be taken within your community to combat 'hate crimes' is developing partnerships within the community with the local police department, schools/universities, faith-based organizations, and victim advocacies with non-profit and social service organizations to just name a few.
"Community policing is about creating and fostering partnerships within the community to combat crime, improve public safety, and respond to disorder. Combating crime, improving public safety, and responding to disorder go beyond law enforcement; everyone in the community needs to be involved in the solution."
Another helpful solution, according to the Department of Justice, once you have found your group of trusted partners, is to use (SARA):
Scanning: Identifying and making the problem a priority
Analysis: Doing some extensive research about what is known about the issue.
Response: Finding solutions to bring about change in a reduction in the numbers and extent of the problem.
Assessment: Analyzing the success of the answers coming from the community.
Raygene English is a reporter. Contact her at renglis2@kent.edu.