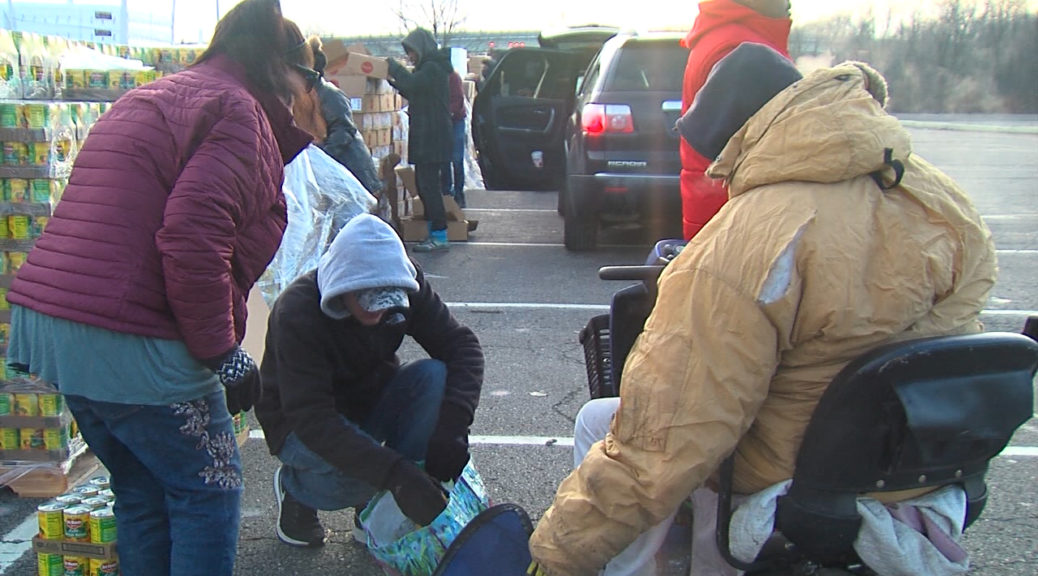 Second Harvest Food Bank and veterans agency hands out 1,000 free meals at Covelli Centre
Second Harvest Food Bank and veterans agency hands out 1,000 free meals at Covelli Centre
Youngstown, Ohio- A cold and quiet morning in downtown Youngstown on Saturday- interrupted by the sounds of forklifts and volunteers preparing for the thousands of people headed their way.
The Mahoning County Veterans Service commission handed out over 1,000 meals in a first come- first serve fashion- leaving the streets and parking lots filled with cars waiting.
Cars stretched beyond the Covelli Center where the Veterans Service and Second Harvest Food Bank were set up.
"A lot of people say they should be grateful and smiling that they're getting this. We're the ones that are smiling. That we're able to do this for the valley, we're able to help someone in need," said veteran Leo Connelly.
Connelly has been volunteering for the community for over 20 years- and he says doing this like this, is his way of giving back.
Community members were able to drive up and pop their trunk open. Dozens of volunteers helped load the cars with canned foods, juices, meats, potatoes and other dry foods.
One Youngstown resident waited in line for hours. John Rainer set his alarm for 6 a.m. after he heard about the donation on the news. "A lot of people are not working, need the money, need the food. It's Thanksgiving," said Rainer.
"A lot of people are not working, need the money, need the food. It's Thanksgiving."

Youngstown resident John Rainer
Just last year, General Motors announced they were closing their doors to thousands of workers in Lordstown, leaving many without jobs in the community.
37 percent of people in Youngstown currently live below the poverty line according to the Bureau of Labor Statistics. Another 5.8 percent of people are without jobs.
"Maybe between all of us getting together, we made a difference and hopefully this will ease a little bit of the paint they'll have over the holiday," said Connelly.