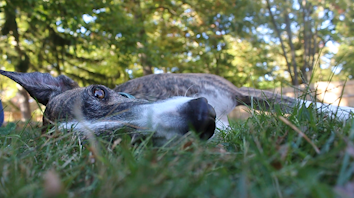 Ravenna woman finds passion rescuing dogs in China
Ravenna woman finds passion rescuing dogs in China
Madison Tromler
With an infectious laugh, bright smile and red hair, Nancy Jones seems to be quite happy with life. Although this may be true, Jones has faced a multitude of adversity, despite her positive aura.
Born in Ohio, she resides in Ravenna of Portage County in a big brown brick home with a spacious backyard.
Nancy and her husband skip around the backyard on a beautiful, Sunday fall afternoon with their three Greyhounds; Sebastian, Hugo and Sophie Grace. Hugo is quite shy.
Nancy can't hide her natural authenticity and her dogs only bring it out of her personality more. Behind the smile and young spirit is a woman who has been through it all.
She hasn't been able to work in five years.
"I've had four strokes with brain damage." She said. "I've had six back surgeries with a broken back which we didn't know, and a fusion, so they will not let me back to work."
On top of this, she's suffering from her third round of skin cancer in addition to having ovarian and breast cancer in the past.
"It'll just keep coming back and it is what it is… We'll keep going, and I'll do the chemo cream and we'll move on from it." She said.
Aside from the immense health challenges she's faced, she's experienced a tremendous amount of loss. Her mother passed away just about two weeks ago, and she has lost three siblings within the past two years.
"He [her brother] died on Thanksgiving Eve, my youngest brother died in February and then my sister died.. who I have not even talked to."
She said her childhood was far from perfect. She suffers from panic attacks and Post Traumatic Stress Disorder.
"I was raped at a young age by a couple of guys…one who I thought was a father to me."
…
Despite all that she has faced, she has the support of her husband and of course, her dogs.
"Thank God I have him," She said. "…because he's the only one thats been keeping me sane."
"Oh, she means everything to me." Her husband Michael said. "It takes about five minutes and you'll know everything in the world about her because she's an open book."
Not only has Nancy been through a lot in life, but she has done a lot in life, too. From being a pro wrestler to a dog rescuer — She's now a traveler.
"February, they [local dog rescue organization she belongs to] had put an e-mail out for volunteers to fly to China and rescue the dogs from the slaughter houses," She said. "So I was like 'I have my passport, let's go, I'm ready, come on!'"
She ventures off to China for a couple days twice a month and flies dogs back to the United States to be rescued.
"For the first time since I was 34 years old, when my first stroke completely knocked me out of my career in wrestling… I had passion," She said about her travels to China. "..and since March, by the end of my next trip, I will have saved close to 57 dogs."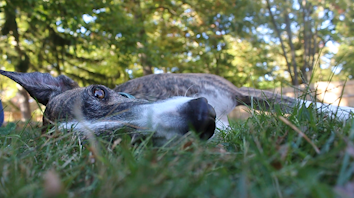 She said her dogs, along with the passion to rescue have saved her life. She believes in being tough and urges people to be brave enough to try new things because it might just save you, too.
"Just look at something outside the box… because I never thought about going to China before." She said. "I've been tough…I've always had to be tough."