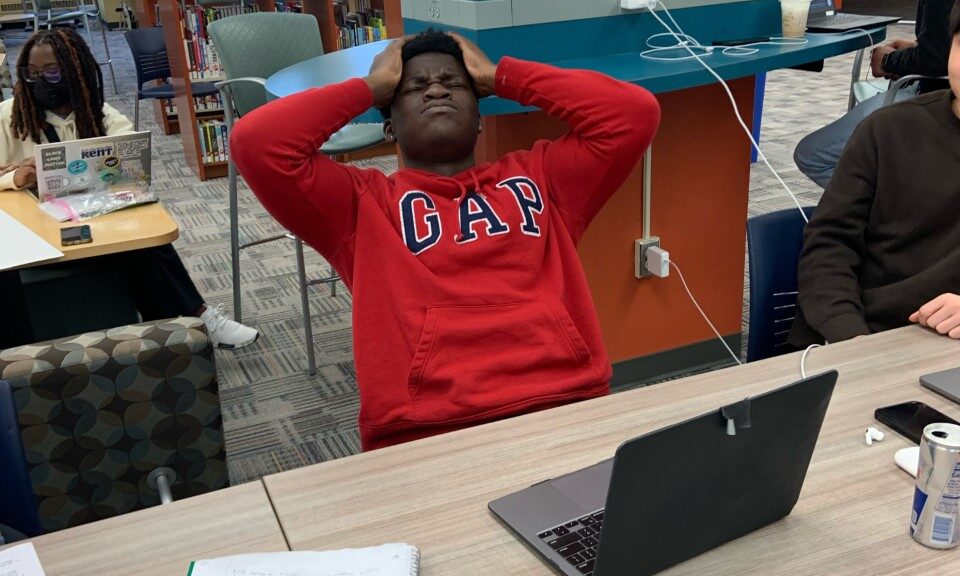 Mental Health's Major Impact on College Students
Mental Health's Major Impact on College Students
College students around the nation have been dealing with social, cultural, economic and public health issues that lead the way in causing a mental health crisis.
As is college can be a stressful time in many people's lives. Add on student loans and the pressure can tense up real fast.
In a study that was conducted in 2021, a group of college students surveyed different students from over 370 college campuses, in order to see a trend in mental health developments in multiple ethnic groups. In the 2020-2021 school year, 60% of the subjects surveyed showed signs of the basic criteria to be considered as someone with a mental health issue.
Of the subjects surveyed, the data revealed that the most common age group showing mental health signs were 18 to 21 year olds, and the most common ethnicity was white.
Women are more likely to show signs of mental health issues considering that 56% of the subjects showing mental health concern signs were women.
These metrics can be very concerning considering the majority of college students are between the ages of 18 and 21.
Jesse, a 18 year old freshman and undecided major is one of those students who struggle with a mental health issue.
"This is my second semester at Kent, and the anxiety of these classes are starting to take a toll on my health," he said.
Jesse currently takes 15 credit courses this semester and says he spends hours doing assignments that even take him past midnight on most nights.
The constant stress of homework, exams and grades are what causes a lot of anxiety and depression with school. This is why about 30% of freshmen drop out of school completely before their second or third semester. 
"We find that the disparities in treatment access by race/ethnicity that existed in 2013 changed very little by 2021, showing a lack of progress towards equity, and for some outcomes and groups, a widening of inequalities over time," said Sarah Lipson, one of the authors in this study.
"In the present analysis, from 2013 to 2021, we observed a roughly 135% increase in positive screens for depression and 110% increase in positive screens for anxiety among all college and university students in our sample, including a continuation of this troubling trend throughout the COVID-19 pandemic," this from the study by the group of college students from all over the country.
Covid-19 has had a rise in the number of college students dealing with depression and anxiety.
Dr. Talea Drummer-Farrell, the dean of students for Kent State, views the impact of Covid-19 and how it has led to an increase in mental health concerns for college students.
With more and more people coming out and stating their issues you can see a correlation in mental health concerns increasing.
"I want to believe that people are starting to understand that not saying anything is a lot worse than saying something," she said. "Our students deserve a chance to come out and give details on what they are going through on a daily basis.
The pandemic had a major role in the increase of mental health with not just college students, but people in general.
In a later study by the World Health Organization, there has been a 25% increase in anxiety and depression amongst US citizens since the start of 2020 to 2022.
The reasoning is currently unknown, but people speculate that mental health took a major turn when people faced isolation.
"The COVID-19 pandemic has exacerbated college students' known mental health risk factors. For example, students of Asian and Pacific Islander descent have encountered discrimination and xenophobia in the face of COVID-19. Disparities perpetuated by structural racism have led Black, Latin, American Indian and Pacific Islander communities to be disproportionately affected by the pandemic," Lipson stated.
One thing is certain, is the fact that no matter what the student ethnicity is, their mental health concerns seem to stem around similar issues.
Stress from assignments is expected, however, stress can also be caused from food choices offered by the school.
In the DI Hub vanilla frosted donuts showcased the dessert bar on Wednesday. Within ten minutes of the doughnuts being served, they were gone.
Christian, a 22 year old senior digital and media major at Kent State, suffers from anxiety and also happens to dine at the school's dining halls.
"Every day I eat at either Eastway, DI Hub or the student center," he said. "Most of the food choices are not very healthy at all."
Christian believes his diet has a major role in his performance in school. Although it may seem like and obvious answer to just eat better, that may not be the case for most students.
Food is very important for your body and mental health. Intensive added sugars and saturated fats can lead to heart disease and diabetes as well as other major health concerns.
A bad diet can also be costly for students' mental health. In another study by Appalachian College students, they found that a bad diet can increase mental health issues by nearly 50%.
A bad diet mixed with lack of exercise will increase health problems and mental health issues.
Mental Health is a serious issue in today's society because of the lack of accountability and proper resources for students to attend.
Although, there are way more help centers and therapists than earlier years, we still are seeing a major increase in the number of students with a mental health risk.
Mindsets are currently part of the issue. Many students feel like they cannot do certain things after they may receive a lower grade than originally expected.
Some advised study habits like flash cards, Quizlets and writing things down repeatedly will only benefit students in their preparation with exams.
Diet and exercise is another huge factor in decreasing mental health problems. Your body needs to be fueled with proper food, and your brain needs physical exercise to process information, better.
These little things can go a long way in benefiting a student's mental health.