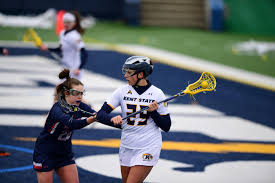 Kent State Lacrosse Program Growing by the Day
Kent State Lacrosse Program Growing by the Day
In its first year of existence, the Kent State women's lacrosse program has shown major growth. Fresh off their first win in program history, we wanted to know what it felt like and where this program is heading. TV2's Tanner Castora has more
Progress in Process
It was a new day for Kent State University back on February 10th. On a chilly, Sunday afternoon in Cincinnati, Ohio, the Kent State women's lacrosse team played in its first ever game against the Cincinnati Bearcats. Head Coach Brianne Tierney knew challenges lied ahead and that this would be a process that would take time. But when it comes to recruiting, she's using the young age of the program to her advantage.
"You get to come in and compete right away for a starting spot which i think is unique for incoming freshman, especially at the division 1 level," Said Tierney.
Head coach Brianne Tierney heads to the locker room at halftime of Wednesday's home match up against Kennesaw State
The team started the season loosing their first 10 games. But the commitment and effort level never waiver. On March 29th the Flashes finally broke through defeating Delaware State 21-6 in dominate fashion. It was the first Division 1 win in the school history. Yes, the team was overfilled with joy, but another emotion was also present.
"It was a little bit of relief, ya know," Tierney said. "More than anything else, sure excitement and happiness, but a little bit of okay, that monkeys off our back, how do we do it again."
The Golden Flashes gather in a huddle before the start of the second half
The Flashes have since picked up their second win of the season defeating Howard this past Sunday. Two more games remain on the schedule before they travel to Conway, South Carolina to partake in the Atlantic Sun Championship tournament.